Introduction
Easy job timer is a timing application that allows you to track the time you spend on tasks for clients or other activities. The application is intended to be very easy to use. Starting the timer requires only 2 mouseclicks, stopping it only takes one.

You can enter up to 15 different task descriptions. For each task, you can choose one of several animated icons, so that you can see which task is currently active. The animated icon will appear in the taskbar.

Each activity has the option to ask for a further description of the task at the time you start the task. You can use this to specify the various activities you do for your client.

Easy Job timer allows you to show and print a time report. You may edit the report by hand if you wish to. You can learn about the program and its configuration options in the help file.




(Output example)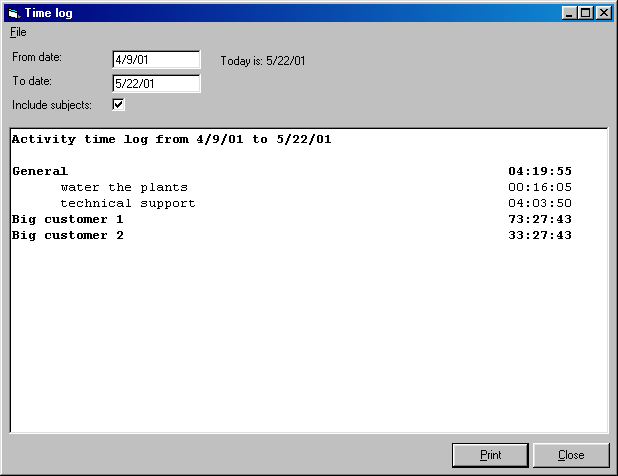 Shareware restrictions
The unregistered program will run for an evaluation period of 60 days. After this time, you will still be able to use the timer and show the time reports, but there will be pesky messages that remind you to register.
Download
To download, please click HERE. (2 Mb, version 1.0.6 )
System requirements: Windows 95 B or later.
Registration
You can purchase the program at the secure ShareIt server. The registration fee is $15.

Registering enables you to download all future updates of the program.
---
Easy Job Timer is copyright by MDG Software,
12 June 2001,